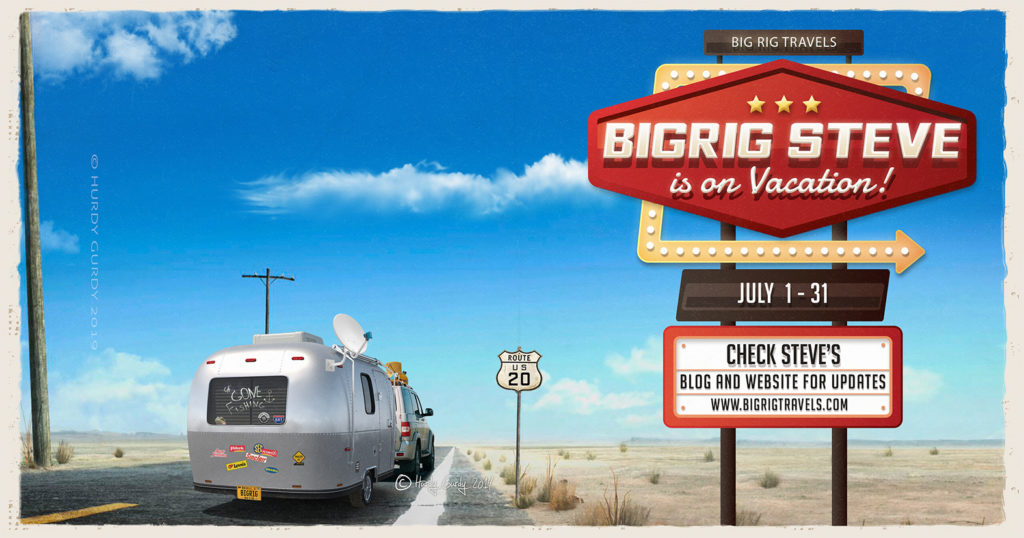 BigRigSteve is taking a vacation!

We are off the road until the end of July. No fear though, we will take along the whole Road Crew! We will still do LIVE broadcasts when possible, update Instagram, twitter, and write a few blogs. Because I am taking Historic US Highway 20 and the backroads, there will be times of no signal. Like normal, you can always follow along on my vacation map. The Vacation Trip map will only display SECTIONS of the vacation at a time due to the massive database requirements. There will be a running list on the far right of the map with places visited during the whole vacation. I hope you enjoy coming along for my vacation. I will keep things updated as much as I can, but please remember, I AM ON VACATION, so this will be a bit different than our normal working website.


Running Vacation Miles thus far: 2,583 Miles
**NOTE** There seems to be a glitch that prevents our LIVE Broadcasts from displaying on the website during certain afternoon timeframes. IF You see the YouTube Broadcast directly above this note then it is good. IF the YouTube Broadcast graphics are not displayed, then please visit the BigRigTravels YouTube Channel directly to view any Live Broadcasts.
ATTENTION: Since Google has decided to start charging us for every single view of our dynamic trip map, I have MOVED it to THIS LOCATION (or click on map on left) in hopes of controlling the costs of providing the map. With the map on the home page, it called for location and map data everytime the website page was opened for any reason. Now, this should help keep costs down and Google will only charge me for actual views of the map itself.
Photo Galleries
Photographic Galleries Arranged By Your Favorite Sections (Opens in New Window)