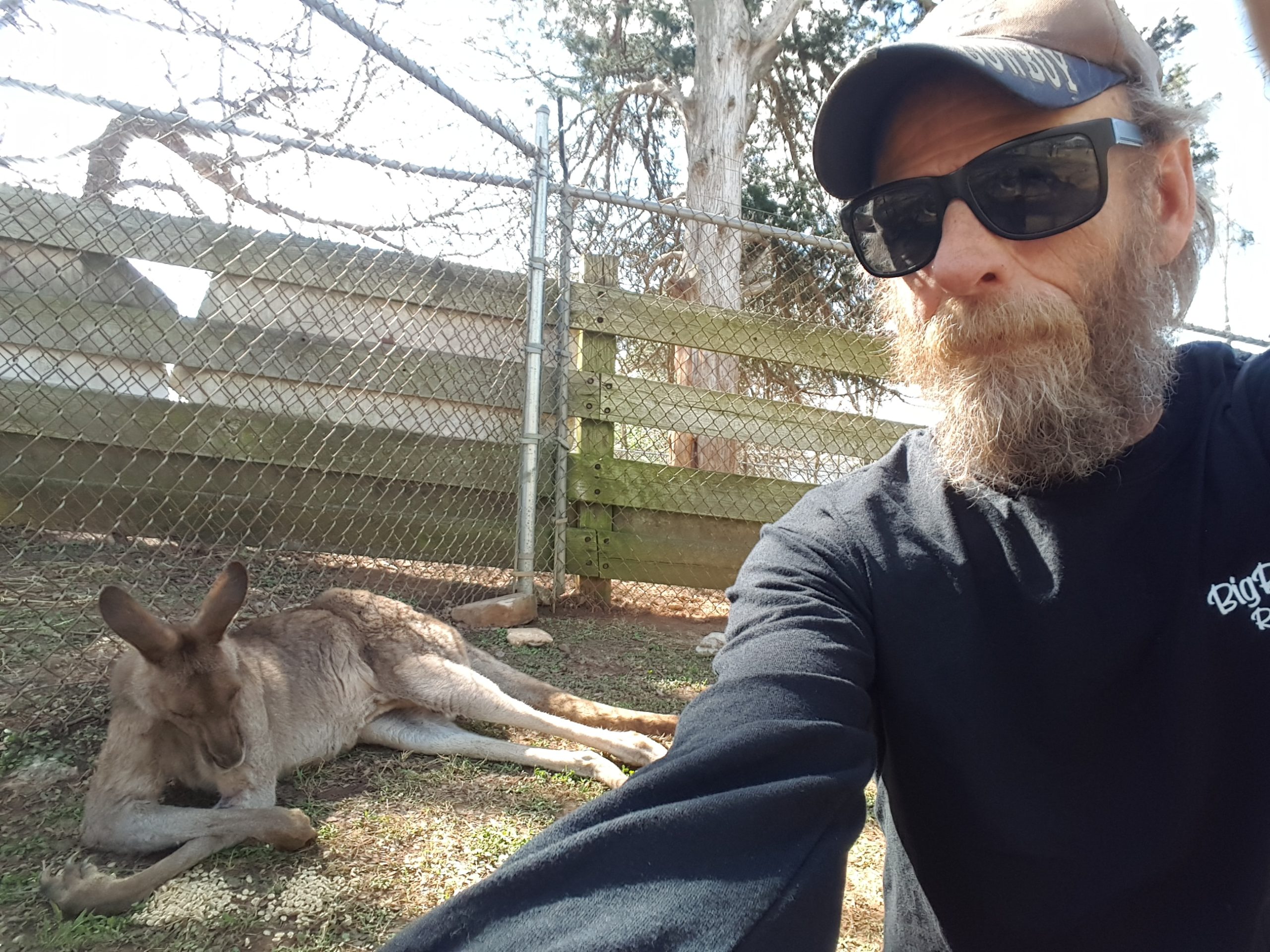 Good Morning to ya Road Crew! Yesterday we discussed our arrival in Horse Cave, Kentucky and how we basically had the rest of the day off while we waited to load up again on Wednesday morning. One of the greatest joys of trucking for me is the ability to get out and explore some of the places around this great country of ours and share them with you. Yesterday, I noticed the "Kentucky Down Under Petting Zoo and Mammoth Onyx Cave" signs literally across the two lane road from the truckstop parking lot. The last few days we have driven through alot of rain and heavy dark clouds starting with the snow and sleet in Cheyenne, Wyoming so when the sun came out and the clouds departed, I thought we should grab our cameras and check this place out.
Kentucky Down Under is the only zoo in Canada, America, and Mexico that lets you actually get close and walk among the kangaroos and, yup, pet them. At the gate to the kangaroo yard, I was greeted by a man that goes by the name "Uncle Billy". He is also known as the "Kangaroo Whisperer" and he asked me if I was "a vet". At first I didn't know what he meant; was he meaning animal vet? I mean, we were at a zoo – or did he mean military service? I told him I was a military vet and we chatted some and shook hands and thanked each other for our service. He then told me that vets get free kangaroo food. I looked at the little white cup of vittles and told him I'd pass since I just ate lunch, and I'd just walk around and take photos. Haha.
It was a very nice day as I walked around the zoo checking out the many animals they had. The path was nicely paved but one heck of a steep climb at first! After I got done walking among the kangaroo and tortoises, I looked across the field to where the sheep were and noticed a young man walking from the far corner of the field to the fence where a bunch of other sheep were gathered (probably pointing fingers and laughing at the tourists on the other side of the fence).  In each arm was a newborn lamb with the momma and sheep dog running alongside! When the man got closer and put the lambs down, a lady asked when the lambs were born…last week? He said no, they were JUST BORN as in a minute ago; his hands were still wet!
On the way to the cave entrance, I chatted with Uncle Billy once again. We talked about BigRigTravels and he mentioned his appearances in TV shows.
The cave tour was nice and short – a total of 144 steps. Everyone at Kentucky Down Under in Horse Cave, Kentucky was pleasant and the whole experience was a great way for this trucker to spend the afternoon. If you have little kids, this would be a place to visit for sure!
For the photo gallery of my visit to Kentucky Down Under, you can go HERE
To see Uncle Billy in action, you can go HERE (video by Airworthy Films)
To visit Kentucky Down Under's website go here or their facebook page, here.
Today we will get loaded (probably already on the road by the time you read this) and head straight up Interstate 65 through Kentucky and Indiana. Pack your lunch!