Big Rig Steve officially done for the day at  11:44 CDT safely parked at HQ in  Belvidere, Illinois. Another season of BRT comes to completion.

Title: Deadheading home for off time

Big Rig Travels broadcast day began at 9:48 CST near Whitewater, Wisconsin. Unloading was completed early, even before our scheduled appointment time, so we finished our ten hour break at receiver's on site parking.

BRS offered a tour of Downtown Whitewater "yes, you thought we were out in the middle of nowhere, this is a high happening place, we should pull over and have coffee" ☕️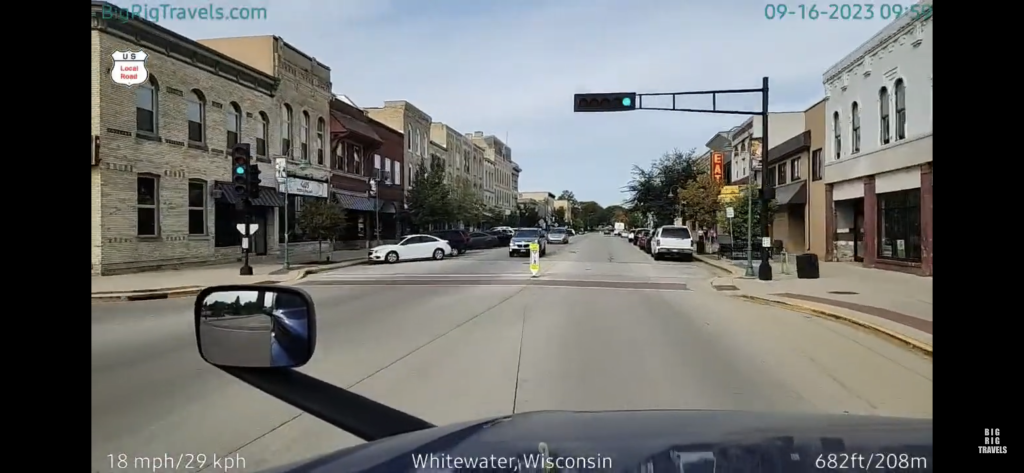 We rolled out on backroads, headed for home, as BRS describes process to prepare a twenty pound brisket that was waiting for us to smoke during our off time.


Rolled on to I-39 near Janesville Wisconsin

Welcome back to Illinois

11:00 🕚 CDT stopped at Loves ❤️for coffee
Numbers : 0mile 0 km to the receiver, we covered  48 miles 77km  rolling out of Wisconsin and back into home state of BRT, Illinois

Clocks :  17:30  hours on 70 hr clock when we started today. Do not gain back any hours tomorrow morning. Clocks are not important as we will reset all during our off time. We are 158 gallons away from reaching Loves Platinum for October. 

No alarm clock ⏰ during time off Whoop Whoop
BRS on "time off the truck" – Big Rig Travels will return in a few days watch the website for updates and while Steve is off, checkout a previous trip that you may have missed.
Another good day for Big Rig Travels

Welcome to BRT World 🌎 Headquarters Belvidere Illinois

Please post comments anything of importance or interest of today's trip that was not included or feedback for Steve about todays broadcast. 

Yes, if you have missed today you can replay some or all of today's trip. Choose the YouTube channel tab on Bigrigtravels website and while you're at the website check out the BRT store for BRT merchandise as 2024 BRT calendars are now available for purchase.