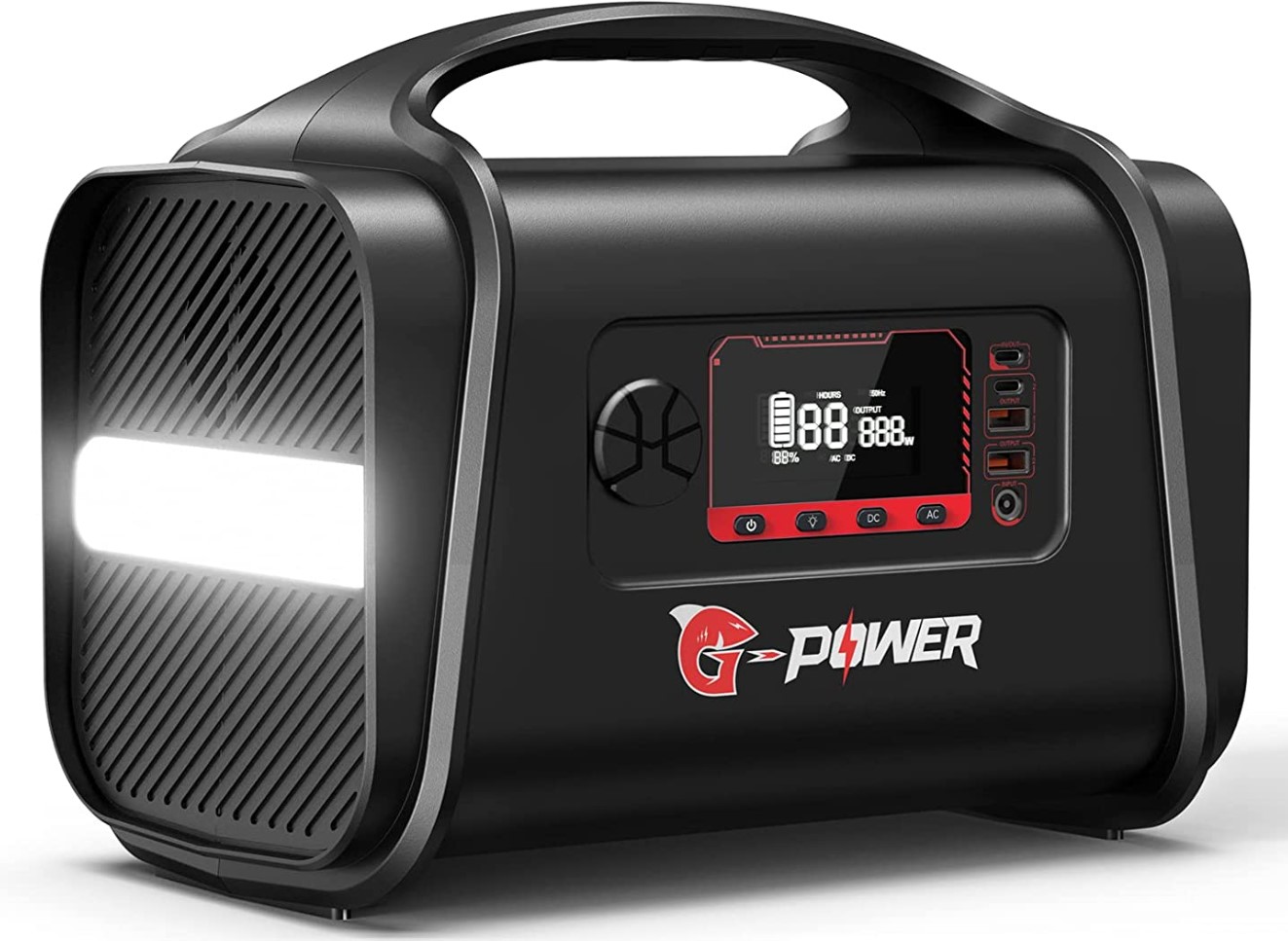 [556.8Wh Large Capacity Power Station] The G-POWER portable power station has a large capacity of 556.8wh and 500W AC output (peak 1000W), which can power most devices such as a car fridge, travel coffee maker, laptop, phone, etc. You can charge a laptop (40Wh) around 12 times, or smartphone(10Wh) around 50 times, or a TV (60W) for around 7.9 hours. The smooth and compact appearance design with a cambered handle is suitable for camping and fishing enthusiasts, which is portable.
[4 Recharging Methods] There are 4 ways to recharge the emergency power battery backup, including an AC wall outlet, solar panel, carport, and USB-C PD port. It can be recharged from 0% to 85% within 1.5 hours through AC wall outlet. Through solar charge, the solar panel collects sunlight and converts the light into electricity, which can extract the maximum power from the solar panel. A renewable energy source will save you expensive electricity bills.
[Multiple Types of Ports] The solar generator has 1 DC input, 1 Type-C PD port, 1 Type-C port (fast charge), 3 USB-A ports, 1 carport, 1 AC output, and input. The DC multi-voltage outputs are compatible with a variety of devices charging simultaneously. There are independent switches of the main on/off and a bright torch to control the AC ports, DC ports, and light. Also, the PD 100W Type-C port is twice as fast as other standard Type-C ports, which provides higher efficiency in emergencies.
[Safer LiFePO4 Battery] The G-POWER portable power station is equipped with the advanced LiFePO4 battery, which is durable and has higher efficiency rechargeable power. It is better than a Lithium battery due to its thermal and chemical stability, which improves battery safety and durability. This power station also provides an intelligent battery management system, which effectively prevents over-voltage, under-voltage, over-current, short-circuit, over-temperature, and other problems.
[Pure Sine Wave] The G-POWER portable power station uses pure sine wave inverter output, which has stable and current voltage, when connected to a battery backup system, pure sine waves guarantee a stable output causing no charging damage. Also, there are inner fans on the right side of the power station, which will start to work automatically when the battery power in watts exceeds 100W.
Get yours here: https://gotvoom.thtk.cc/16806244489114 CODE: 5GEB4Z66