Good location on the Westside of Snowqualmie Pass and about 30 miles outside of Seattle.
The parking lot is medium sized with plenty of room to manuver into a spot. About half of the parking is paid parking at a cost of $17.00. Lot is clean and well lit.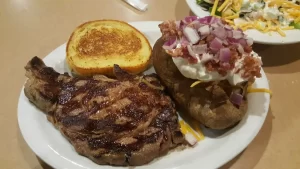 I ordered the 12oz prime rib dinner with loaded baked potato. The steak was cooked perfectly and had great taste! Good waitress who paid attention. The Country Pride restaurant is not actually inside the truckstop but is in a different building next door.