Big Rig Steve ended broadcast as we arrived at the receiver 18:21 CDT 1:39 minutes early for live unload appointment near Oconomowoc, Wisconsin. 
Update yes we made it home safely after delivery was completed.
Title: Almost home 
Big Rig Travels broadcast day started at 9:52 EDT near West Unity, Ohio. 
10:26 EDT  Welcome to Indiana, near Angola, IN on US 20 just before crossing under I-80/I-90. 
10:45 EDT stopped at Loves ❤️for recheck of mass/weight as BRS had adjusted the tandems since yesterdays mass/ weight check. BRS had a lottery story while we waited to access the Cat 🐱 Scale. Yes, we have plenty of capacity for fuel ⛽️ Blue Comet also fresh coffee ☕️. 
While waiting for the delivery appointment, we passed time at Kwik trip truck stop eight miles from receiver. BRS chatted with BRT road crew while we waited.  Road crew meet up occurred as Bucky Billy Badger 🦡 stopped to meet Steve. Appropriate name for one living in Wisconsin.
10:48 CDT broadcast resumes after delivery was completed. We stop at nearest KwikTrip for coffee then some backroads and I-90 back to Belvidere Illinois
image below of route final trip of the season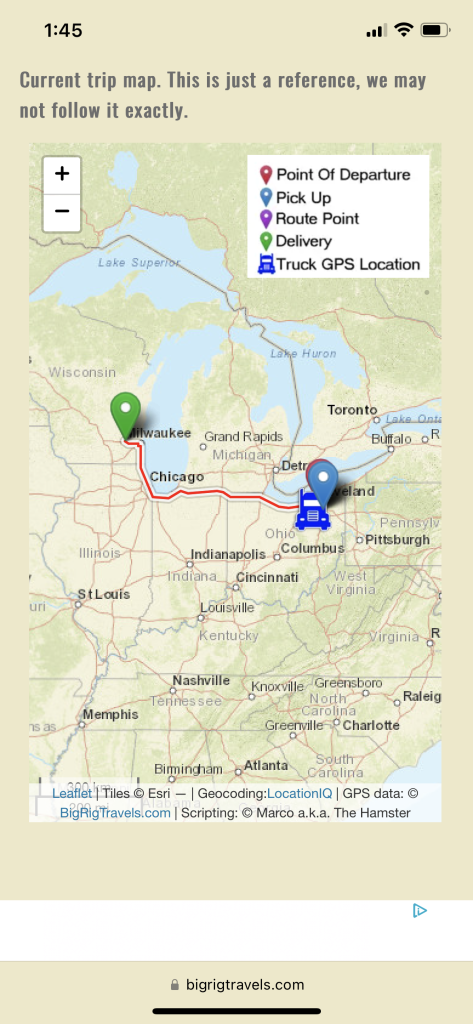 Numbers we covered 415 miles 667 km out of Ohio across Indiana, Illinois , into Wisconsin and back to Illinois including delivery which was 3 hours
Clocks 2:44 hours on 11 hr, 1:17 hours on 14 hr, 54:07 hours on 70 hr which are not important now that we have arrived at home and going into off time. Do not know when we will return watch website status bar for update.
Season Five will be starting soon with a fresh 70 hour clock so everyone enjoy off time.  Steve has plenty of videos available on the Website Bigrigtravels.com to watch if you want to view during his time off.
Another good day for Big Rig Travels 
Welcome to back to Headquarters in Illinois
Please leave comment for Big Rig Steve about today's travel and season four.