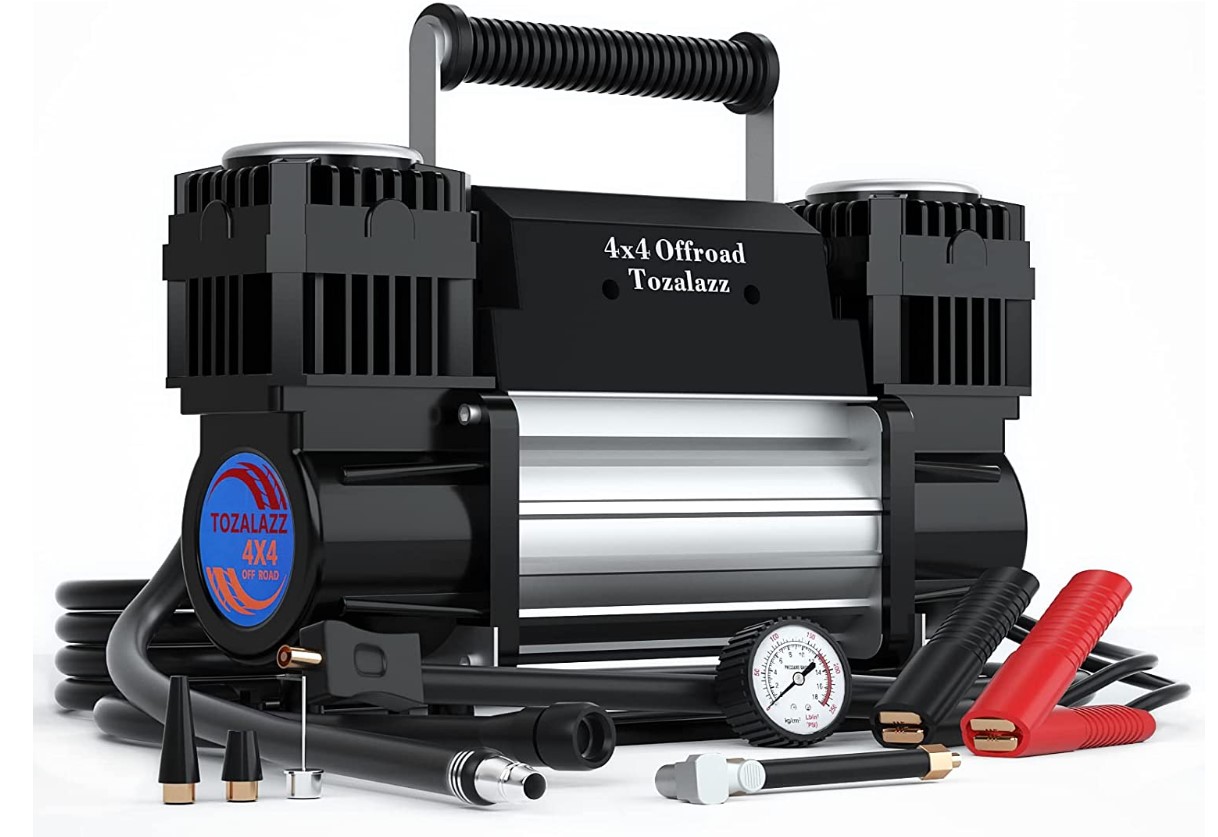 Further Innovation & Patented Design Inflator: Tozalazz air compressor is equipped with industry-leading driver motors and unique solutions created through millions of tests. It offers an unbelievable 11.65CFM (At 0 Psi), and 7 CFM at 30 psi, meaning it can take an average 4WD tire less than 2 minutes to be inflated after lowering the pressures on the trail. So this air compressor could handle trucks' and cars' tires very well and easily and will have you back on the road in no time.
2X Faster Inflate & High-Performance: Tozalazz air compressor is equipped with two 60mm-cylinder, meaning it has substantially increased the efficiency of the tire inflating and their ability to deal with some of the large tires. And the average inflates speed more than doubled over those 12v air compressors on the market. This air compressor takes 1 minute to air up a truck tire from 10Psi to 40 Psi( TESTED ON THE 285/75R17 (33.8″)Tires).
Heavy-Duty Build & Unique Design: This portable air compressor is equipped with a gear-less and oil-less drive for quiet efficient operation. More importantly, the Tozalazz air compressor upgraded metal shell is made with a durable die-cast aluminum enclosure that better affords protection to the structure of the machine. And double filtered air-intake system to keep your 12V air compressor free from dust and debris making sure it will handle all those weekend 4WD trips or daily needs.
Auto-Thermal Cut-Off Protection: This air compressor has overheat protection that shuts off automatically system. Package included a 12-volt air compressor, 8 ft power cord with battery clamps, 25ft air hose, quick connector, a carry bag and 3 pcs nozzle. Great for car, truck, suv, 4×4 vehicle, RV, Atv, Mtv tires.
Get yours here: https://amzn.to/3qdqios
Tozalazz website: https://tozalazz.com/