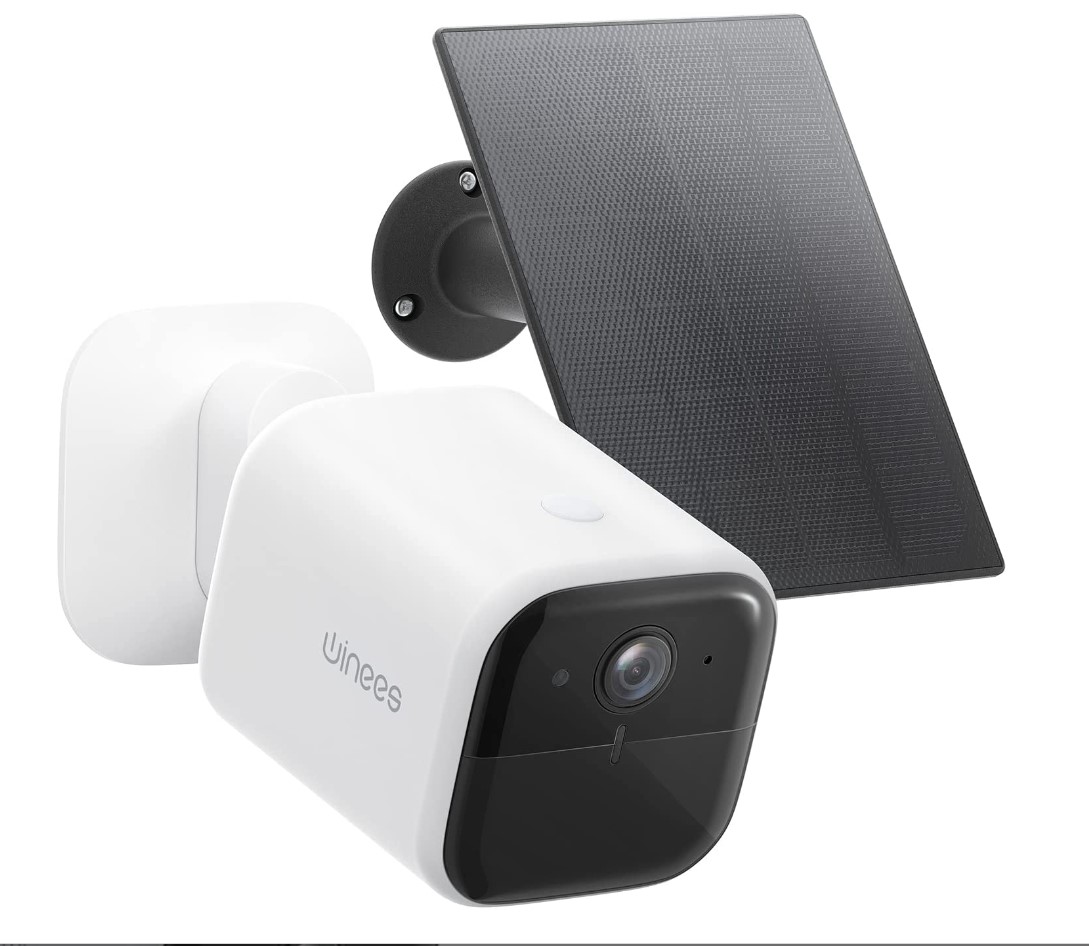 100% WIRE FREE & 365 DAYS LIFE: Winees battery cam has a built-in high-performance 5200mAh battery, which can be installed anywhere without any wires. After installing the solar panel easily, you can enjoy the 365-day lifespan of the winees solar camera(included in the package)without the trouble of regular charging. (Only support 2.4G WiFi)
ULTRA-CLEAR 2K QHD RESOLUTION: Get unparalleled clarity with our ultra-clear 2K QHD resolution. With a 130° diagonal viewing angle and 6x digital zoom, you won't miss a single detail with solar camera. 2K resolution gives you a crystal-clear view in QHD.
8G LOCAL STORAGE & 98.3% ACCURATE SMART DETECTION: Sensitive PIR sensing reduces any false alarms; solar outdoor camera provides 8G Emmc local storage function, which can save up to 60 days of video for you. Human detection is available without any subscription or hidden fees; after identifying vehicles, packages, pets, you will quickly receive sensitive alerts.
ADVANCED NIGHT VISION: Protect your home day and night with our advanced night vision feature. Our solar outdoor camera uses an advanced CMOS sensor and infrared night vision function, allowing you to see movement clearly from up to 33 feet way – even in complete darkness.
https://www.amazon.com/winees-Security-Wireless-Detection-L1/dp/B0BS8Z7GQZ?crid=3EP7530IRIMLU&keywords=winees%2Bl1%2Bsolar%2Bsecurity%2Bcamera&qid=1683581125&sprefix=l1%2Bsolar,aps,178&sr=8-1-spons&ufe=app_do:amzn1.fos.18ed3cb5-28d5-4975-8bc7-93deae8f9840&spLa=ZW5jcnlwdGVkUXVhbGlmaWVyPUEyVVdYVTJNQlFNWkFLJmVuY3J5cHRlZElkPUEwODk5NDMxM1ZTSkNHOThXTEhBMSZlbmNyeXB0ZWRBZElkPUEwMTI5NzEzMjJGQVlCVDJPNU9WRCZ3aWRnZXROYW1lPXNwX2F0ZiZhY3Rpb249Y2xpY2tSZWRpcmVjdCZkb05vdExvZ0NsaWNrPXRydWU&th=1&linkCode=sl1&tag=bigr0f-20&linkId=2de9ca374f11ac713ab12aec67f16394&language=en_US&ref_=as_li_ss_tl&&maas=maas_adg_DBCC3BC102D802B84845A2F5D83A99F1_afap_abs&ref_=aa_maas&tag=maas
17% Off coupon: CEUQBNS6
Winees Official: https://iwinees.com/
AiDot Official: https://www.aidot.com/