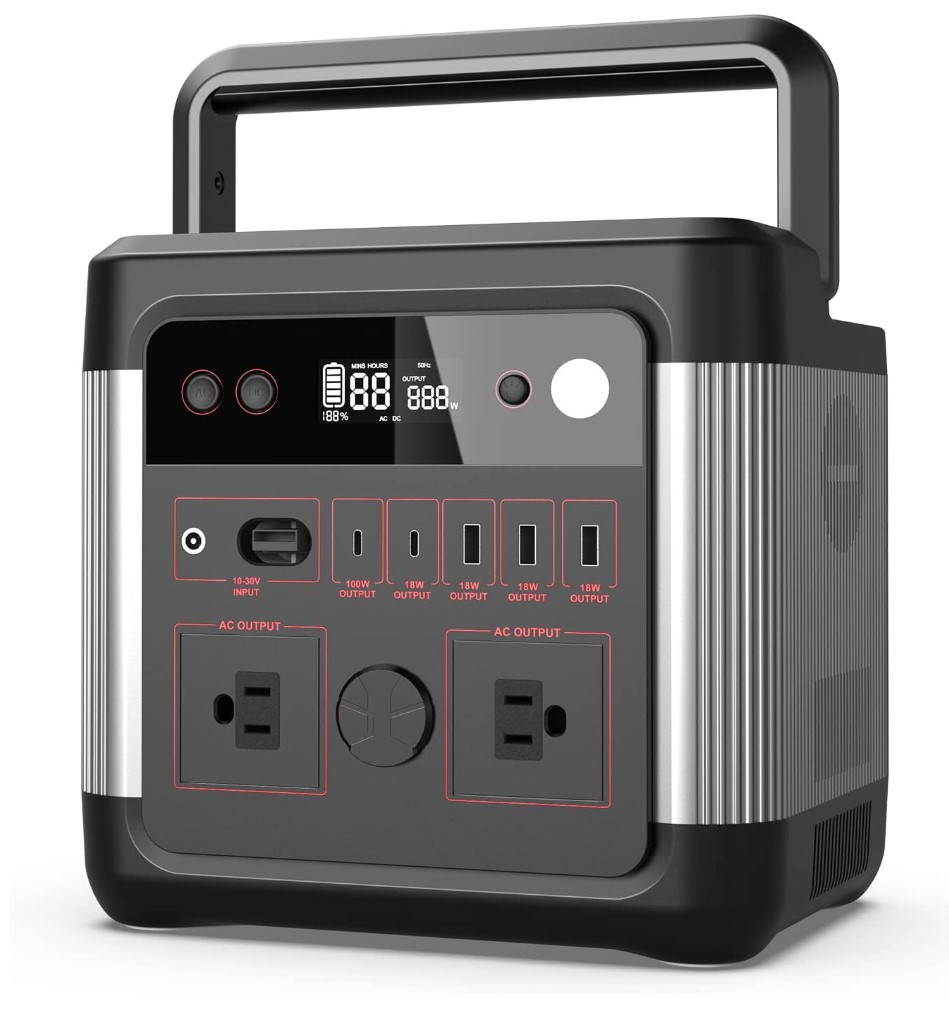 [974.4Wh Large Capacity with LCD Display] This portable power station has a 974.4Wh ultra capacity with a 1200W rated output, which supports different devices charging simultaneously. You can charge a 10Wh phone about 90 times, or a laptop about 22 times. This portable power station was designed with an intelligent LCD display that clearly shows the battery life status. Making it easy for you to monitor the power source and operation status.
[4 Ways of Recharging] There are 4 ways to recharge the emergency power battery backup, including a wall AC outlet, DC & Anderson solar charge, car port, and USB-C PD port. It can be recharged from 0% to 85% within 5 hours through the PD 100W Type-C port. The power station can extract maximum power of charge from the solar panel. This is a no-cost renewable energy source that will save you money. You can also charge the device and recharge the power station simultaneously.
[Multiple Output Ports with 1200W Rated Output] The solar generator has 1 DC & Anderson solar charge, 1 Type-C PD port, 1 Type-C port (fast charge), 3 USB-A ports, 2 AC outlets, and 1 car port, which can charge various devices simultaneously. The 1200W rated output power can support most high-power appliances such as electric ovens, kettles, air fryers, coffee makers, etc. It's perfect for reconnecting with nature, camping and experiencing off-grid life, without losing your modern comforts.
[Type-C PD 100W Rapid Charging] Don't worry about your phone or laptop battery suddenly dying. The PD 100W Type-C can provide ultra-high efficiency in emergencies, which is twice as fast as other standard Type-C outputs. The 3 USB-A ports are also all quick charge 3.0 with 18W, this allows you to charge different devices simultaneously.
[LiFePO4 Battery for Multi-protections] The G-Power portable power station is equipped with the advanced LiFePO4 battery. It is better than a lithium battery due to its thermal and chemical stability, which improves battery safety and durability. This LiFePO4 battery also provides multiple protection features such as over-voltage, under-voltage, over-current, short-circuit, and over-temperature.
[Pure Sine Wave] The G-Power portable power station prevents any damage as it uses a pure sine wave inverter output, which has stable and current voltage. You don't need to worry! There are inner fans at the two sides of the power station, which will start working automatically when the battery power in watts exceeds 100W. There is also a LED light near the display, which is convenient for outdoor use.
Get yours here: https://gotvoom.thtk.cc/16806247373048 CODE: FA1Z66XO